This Sequined Wreath Craft For Kids is quick, easy and pretty! Make a bunch of them and hang them on your Christmas tree for lots of sparkle this year!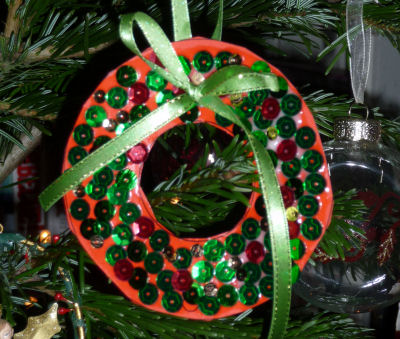 Our sequined wreath hanging on our Christmas tree - we cheated a little and the glue isn't completely dry!
You will need:
Our template (below). We used the medium wreath shape
Printer card (or print the template onto paper and use as a guide to cut out of card)
Sequins in assorted colours
Hole punch
Ribbon to hang

Christmas wreath template
Instructions:
Print our template directly onto card and cut out, removing the centre carefully. Alternatively, print onto paper and use as a template to cut out some heavier card as a base.
Punch a hole in the template where marked. Put your wreath on a safe surface - perhaps some newspaper or a plastic sheet.
Cover liberally with white glue. Now add your sequins. You can arrange them carefully, in a pattern, or just throw them on and hope for the best! Younger children will find it easier to work with larger sequin sizes.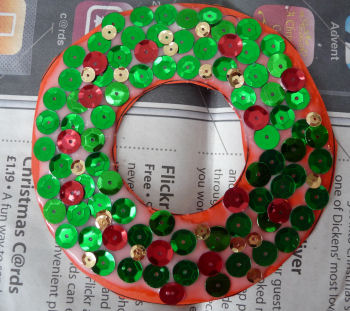 Sequined wreath left to dry. We used large green and red sequins, and scattered in some tiny gold sequins for added sparkle! If we made this again I would prefer to use a green card for the base.
Leave to dry for at least 24 hours. Thread some ribbon through the hole, and hang.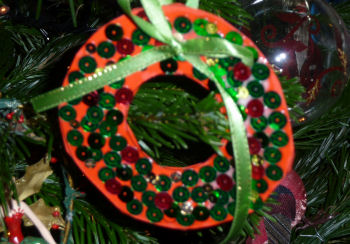 Explore Activity Village