Serbia
Find out a little about Serbia with the kids and then enjoy our flag printables (including colouring page, bookmarks and various sizes of flag to print).

Belgrade fortress and a panoramic view of Serbia's capital city
Geography of Serbia
The Republic of Serbia is a landlocked country in South Eastern Europe.
It shares a border with Hungary, Romania and Croatia to the north across the Pannonian floodplain, in addition to Croatia, Montenegro, Macedonia and Kosovo.
The Balkan mountains form the border with Bulgaria and Romania, with the Dinaric Alps and valleys on the west.
A Little History
Serbia means "the land of the Serbs". The Serbs were Slavs who colonised the area in the 6th century CE.
This region was the birthplace of 17 Roman Emperors including Constantine! The only country to have provided more Roman Emperors was Italy.
Serbia played a key role in Yugoslavia, which was a federation of Balkan states. It started as a Kingdom but became a Socialist state after 1949, under Tito.
The Capital City, Belgrade
Belgrade, the capital, is one of Europe's oldest cities. Nearby Vinca was a major Neolithic settlement dating to 5,700 BCE. Located at the junction of the Danube and Sava Rivers, in a strategic location, the city has been occupied by 40 different armies and destroyed many times.
Belgrade is protected by an ancient fortress which was once home to a Roman legion. The Serbian name for Belgrade is "Beograd", which means white fortress or town.
Modern Belgrade is home to over 20% of Serbia's 7.5m people. Street signs are written using the cyrillic alphabet, which can be confusing to visitors.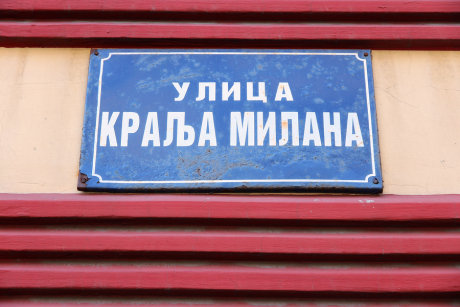 Serbian street sign in the cyrillic alphabet - translating as King Milan Street
Some Interesting Facts
Most Serbians are Eastern Orthodox Christians. They celebrate Christmas Day on 7th January as they use the old Julian Calendar. For dinner they eat a dish called 'pecenica', which is roasted pig, followed by a special cake containing a coin.
In the hills around Fruskla Doro, 35 monasteries were built from the 15th to 18th centuries to defend the Serbian culture against the Turks. Sixteen monasteries remain today.
Serbia has over 300 species of bird. Each 1st May, on the Great Day of Birds, people compete to count the most species within a circle of 50 metres!
Prince Marko is a Serbian folk hero celebrated throughout the Balkans. He was a real person and King of Serbia in the late 14th century. Stories of his fictional exploits record his talking horse Sarac!
Nicola Tesla was a famous Serbian, although born in Croatia. He invented alternating current (AC), which allows electricity to travel long distances, and the tesla coil used in radios. Belgrade Airport is named after him.
Serbians love to eat grilled meat. Cevapcici is made from minced beef or pork and onions, cooked over a fire. It is found across the Balkans.
Basketball is one of the nations favourite sports and Serbia won the World Cup in 2002.
Serbia has produced many leading tennis players including Novak Djokovic and Ana Ivanovic.
One of Europe's top music festivals, EXIT, takes place each year at the historic Petrovaradin Fortress on the banks of the Danube in Novi Sad. It was voted the best large festival in Europe in 2014.
Our Serbia Activities
Learn about Serbia with the help of these fact-finding and location worksheets for kids. We also...
Here we have Serbia flag printables, including a Serbian flag colouring page, bookmarks,...
Explore Activity Village