Snakes
Coming in all shapes and sizes, snakes are some of the most feared creatures on earth but children can be fascinated by them! Whether you are looking for facts or colouring pages, theme ideas or Year of the Snake crafts, we hope we have something here for you!
There are about 3,400 different species of snakes - ranging from tiny 10cm thread snakes to pythons measuring over 8.5 metres! Most snakes are not poisonous and most that are use their venom to subdue or kill their prey - but of course some carry enough venom to kill a human being.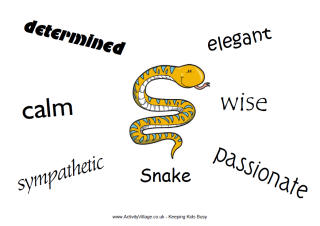 The snake is one of the twelve animals of the Chinese zodiac. If you have a snake in your household or classroom, you might like to check out our activities!
Year of the Snake
The late, great Steve Irwin tells us about some of the snakes he met...
NB Children should not browse video sharing sites unsupervised
Why Not Explore...

Spiders
Explore Activity Village