This adorable snowman craft is a perfect Christmas or winter craft for kids of all ages - although younger children may need help and supervision.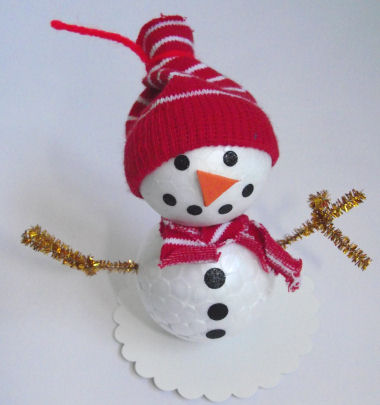 Isn't this little snowman cute?
You will need:
A 6cm polystyrene ball,
A 4cm polystyrene ball
A baby sock
Circle stickers
Pipe cleaner (chenille stems)
Scrap of orange craft foam or card
Card for base
Glue (we used a hot glue gun to make the body)
Instructions:
Cut out a circle of card. Glue the larger ball onto the card and the smaller ball on top.
A hot glue gun is best for this so best if an adult prepares this ahead of time.
Make the hat by cutting through the sock at the heel. Tie the cut end with a small piece of yarn and slip the ankle cuff over the head.
Cut diagonally across the remainder of the sock from the cut edge to the toe, then open it out so you have a strip of fabric. Tie this around the snowman as a scarf.
Add stickers as eyes, mouth and buttons and stick on a scrap of foam as a carrot nose.
To make the arms, cut the pipe cleaner into 3 pieces. Cut one of the pieces in half again.
Twist one of the smaller pieces around a longer piece to make the hand. Push the arm into the snowman (adult help may be required). Repeat with the other arm.
Display your snowman proudly!