This adorable little "bean bag" wolf is made out of - you guessed it - an old grey sock! He's much too cute to throw around like a bean bag, though. Children will need simple sewing skills to make him.
You will need:
Grey Sock
Needle and thread
Rice
Small white buttons
Black bead or button
Instructions:
Place the sock on the table in front of you and cut a diagonal line from the top of the foot, as shown in the photo below.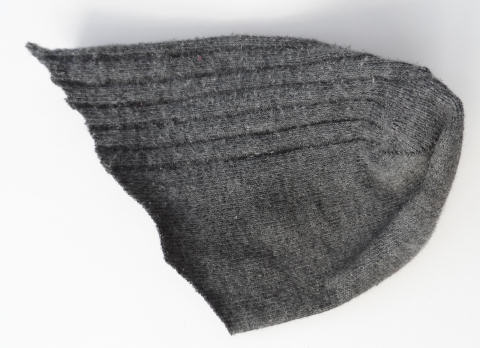 Fill the toe section with rice.
Fold over the point at the top and stitch in place.
Take the discarded part of the sock. Cut off the elastic cuff and cut a strip to the length that you would like the tail. Fold in half and sew the open seams, then stitch to the rear of the body.
To make the legs, cut 4 pairs of rectangles from the remaining scrap of sock. For each pair sew around three sides and then turn inside out. Sew the open end to the body of the wolf.
Stitch on the buttons for the eyes and nose.