South Africa
Here you can pay a quick visit to South Africa, learn some fun facts and enjoy a range of printables, colouring pages and worksheets...

An aerial view of Cape Town showing Table Mountain in the background.
Some Facts about South Africa
The 'rainbow nation' of South Africa is a large multi-racial country which covers the southern part of the continent.
With a population approaching 50 million, 11 official languages, three capitals, 22,000 plant and 2,000 fish species, South Africa is a country of large numbers!
The Sterkfontein limestone caves around Guateng are known as 'The Cradle of Humankind' due to finds of 2 million year old humanoid fossils and tools.
Once a Dutch colony dating to 1652, defining moments in history include the Boer War between Afrikaner farmers and the British. The dark period of Apartheid, 1948-1994, when the white minority persecuted the black majority, led to international isolation for the country.
In 1886 a gold rush followed large deposits found on a farm at Langlaate. The town which grew there is now the biggest city, Johannesburg.
In 1990 Nelson Mandela, held as a prisoner for 27 years, was released from Robben Island. Four years later, the ANC were elected to rule and he became the country's first black president. We have more on Nelson Mandela, including some fun printables and colouring page, here.
Cape Town is dominated by the plateau of Table Mountain which overlooks a city that attracts visitors to its shore. Wine lovers flock to the Stellenbosch.
Of the dozens of safari parks, the mighty Kruger National Park is world famous for its big five game. It covers almost 2 million hectares.
Nobel peace prize winners Nelson Mandela and Archbishop Tutu both once lived in Vilakazi Street in Soweto, a township now part of Johannesburg.
South Africans are sports mad, producing champions in rugby and soccer. Soccer is increasingly popular after the 2010 World Cup was hosted here.
Food lovers are spoilt. Barbecues, known as "braai", are hugely popular, as are local dishes like Cape Malay bobotie, a sweet and spicy rice dish made with lamb and apricots.
Where is South Africa?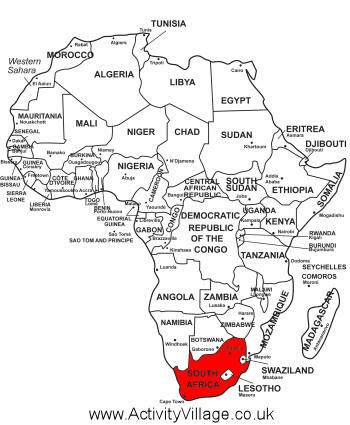 You can print this map here
Lots of Activities...
Explore Activity Village