South Korea
What do you know about South Korea? We've collected some interesting facts for you to enjoy with the kids, and if you scroll to the bottom of the page you will find our South Korea flag printables and flag colouring page, too.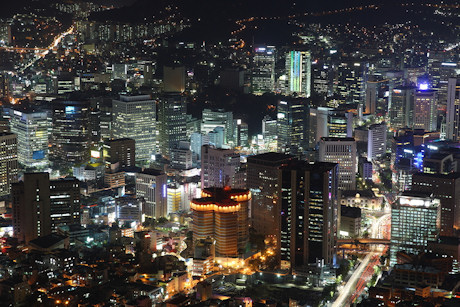 The city of Seoul, capital of South Korea, at night
A little about South Korea:
South Korea, or the Republic of Korea, is in East Asia. It occupies the southern half of the Korean Peninsula, below North Korea.
Japan is to the south-east across the East Sea, and China lies across the Yellow Sea to the south-west.
The border with North Korea is a demilitarised zone (DMZ), 250 km long and 4 km wide. It was created in 1953 after the Korean War. Endangered animals such as the Amur leopard and Asian tiger are thought to live there.
Korea is one of the most ethnically homogeneous countries in the world.
Korea's 51 million people are keen on technology. Korea has the world's highest rate of broadband connection.
Seoul, the capital city, has a large population of 10 million, densely packed into a small area. Many people live in high rise apartments.
There are five Royal Palaces in Seoul, built by the Joseon kings who ruled for 500 years from 1392.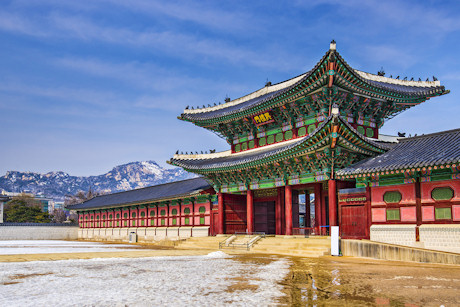 Gyeongbokgung Palace in Seoul, South Korea
And a few interesting facts...
Seoul hosted the 1988 Summer Olympic Games. South Korea co-hosted the 2002 Football World Cup with Japan and will host the Winter Olympic Games in the city of Pyeongchang in 2018.
Korean pop music, known as K-Pop, is a major export. "Gangnam Style" by PSY became the world's most viewed video on Youtube in 2012! Gangnam is a fashionable area in Seoul.
Kimchi, the nation's favourite dish, is made with fermented vegetables such as cabbage. It is served to accompany most meals and is said to help prevent bird flu.
Korean babies are one year old on the day that they are born, then add another year on New Year's Day.
Koreans have two News Years. In addition to January 1st, Koreans also celebrate the Lunar New Year in February.
The Korean alphabet is called Hangul. It has 10 vowels and 14 consonants and is easy to learn for young children.
Korean schools use robots to teach English! They have a computer screen which shows the face of a teacher, who can be sitting in another country whilst helping children to learn!
Koreans are obsessed with the computer game 'Starcraft'. There were professional players and two TV channels dedicated to broadcasting tournaments.
The Korean martial art taekwondo is the national sport. Unsurprisingly Koreans have won the most Olympic gold medals.
In February 2018, Pyeongchang in South Korea will play host to the 2018 Winter Olympics!
Pyeongchang Winter Olympics 2018

Pyeongchang Winter Olympics
Our South Korea Printables
Explore the pages below for South Korean flag printables, including a colouring page, notebooking...
Have a go at these location and fact-finding worksheets on South Korea, and print out a useful,...
Explore Activity Village