This sparkly pencil topper is a quick and easy craft for kids, and a perfect craft for Bonfire Night, Fourth of July or Canada Day.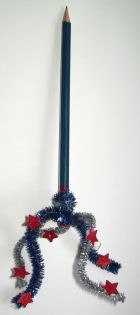 You will need:
A pencil
Sparkly pipe cleaners (chenille stems)
PVA / White glue
Star sequins or a star punch and sparkly paper
Dip the end of the pencil in the glue. Lay two pipe cleaners side by side. Put the end of the pencil onto the centre of the pipe cleaners and then twist the pipe cleaners around the pencil. Leave to dry.
Bend the pipe cleaners so they stick out from the end of the pencil. Punch out lots of paper stars (or use sequins) and, putting a dab of glue on the back of each, glue them along the pipe cleaners.