This pretty butterfly looks lovely up against the window, or hanging in the breeze with a few friends. If you laminate it carefully it will stand up to hanging outdoors, too, although it won't last indefinitely.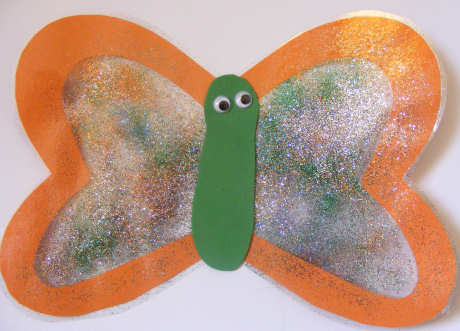 You will need:
Bright coloured paper or card
Multi coloured glitter
Laminating pouch and laminator (or contact film)
Green foam or card
Wiggly eyes
Instructions:
Fold the paper in half.
Cut out a butterfly wing shape, and then cut another shape about an inch in so that you end up with a frame when you unfold the butterfly.
Lay the shape carefully in your laminating pouch (or on the sticky side of your contact film).
Fill the centre of the butterfly with glitter. Carefully lay the top layer of the pouch over the butterfly and feed through the laminator. Laminators get very hot so young children will need an adult to do this part for them. If you are using contact film make sure you completely cover the sticky bit with the other side of the contact film.
Cut around your butterfly.
From green craft foam or card, cut a body for your butterfly and stick it on with glue or double sided tape. If you are going to hang your butterfly up, you might want to sandwich a length of thread between the butterfly and the body before you glue them together. Add two wiggly eyes and put your butterfly out on display.
Explore Activity Village