Make a sporran with your kids for St Andrew's Day. A sporran is a small pouch that men wear with their kilts, as kilts don't have pockets! Sporrans are traditionally made from leather or fur.
You will need:
Brown craft foam
Brown embroidery thread
Embroidery needle
Button
Brown thick cord
Instructions:
Use our template to cut out the two pieces of the sporran from the craft foam.
Lay the smaller piece on top of the larger piece, matching up the edges, and use blanket stitch to sew them together.
Make three tassels by wrapping the embroidery thread around four fingers about 8 times. Slide the thread off your fingers. Tie a piece of thread about ¾ of an inch from one end to form the top of your tassel. Trim the loops at the bottom. Make another two tassels in exactly the same way.
Stitch the three tassels and the button to the front of your sporran. On the top flap make a small loop of thread by threading it through the foam and tying two firm knots. Use the loop to hook around the button and close the loop.
Thread some thick cord through the fold at the top. Tie the cord around your waist to wear your sporran!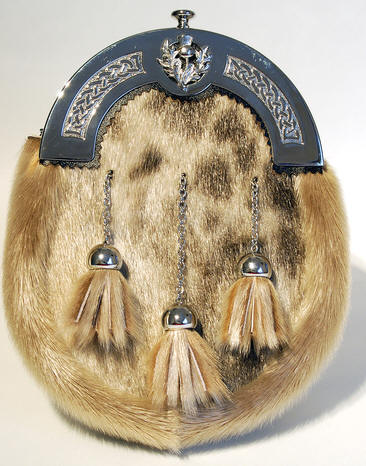 Here is a photo of a real sporran, for inspiration!