Use pre-cut craft foam stickers for a quick and easy - and clean - spring bracelet craft for kids to make and wear. Or cut your own shapes and get sticky with the glue!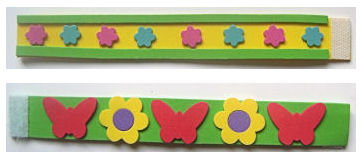 You will need:
Craft foam
Hook and eye fasteners
Foam stickers (flowers and butterflies) or other embellishments
Instructions:
Cut a rectangle of craft foam 1 inch wide and long enough to go around your wrist with an inch to spare. If you like you can cut the edges of the rectangle into a pattern.
Stick the eye fastening to one end of the front of the bracelet, and stick the hook fastening to the back of the bracelet at the other end.
Decorate with the foam stickers or other embellishments
Explore Activity Village