Sri Lanka
Take a quick virtual trip to Sri Lanka and discover a little about its geography and history, as well as some interesting facts! We also have a set of flag printables and flag colouring page for you to print and enjoy with the kids.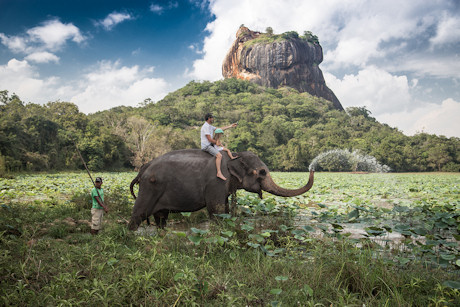 Sigiriya, Fortress in the Sky, Sri Lanka
A Little Geography...
The Democratic Socialist Republic of Sri Lanka is an island country in the Indian Ocean.
Well known as an important exporter of tea, Sri Lanka also produces coffee, gemstones, coconuts, rubber and cinnamon.

Tea pickers in Sir Lanka
A Little History...
Sri Lanka has an ancient history dating back at least 125,000 years.
Sri Lanka's position on the Silk Road made the country of great strategic importance for thousands of years.
Until 1972 it was known as Ceylon.
A bitter civil war lasting thirty years was finally ended in 2009.
And Some Interesting Facts...
Sri Lanka was the first Asian country to have a female ruler, Queen Anula. She reigned from 47 to 42 BC.
Early monarchs were responsible for some amazing projects such as the "Fortress in the Sky" at Sigiriya, built between 477 and 495 AD. The fortress is surrounded by moats and ramparts and enclosed gardens, ponds, pavilions and palaces!
---
About the Sri Lankan Flag
The Sri Lankan flag stands out from the crowd! The colourful and unusual Sri Lankan flag features a golden lion, which represents the Sinhalese ethnicity. The lion is holding the kastane sword in its right fore paw, representing the bravery of the nation. The four golden bo leaves represent Buddhism.
---
Our Sri Lanka Resources
Explore Activity Village