This stained glass picture looks stunning standing against a window to catch the light - perfect to display in the bathroom, possibly! Children will enjoy the effect of the different colours of blue tissue paper. Using the stick-back plastic makes this a relatively mess-free craft, too.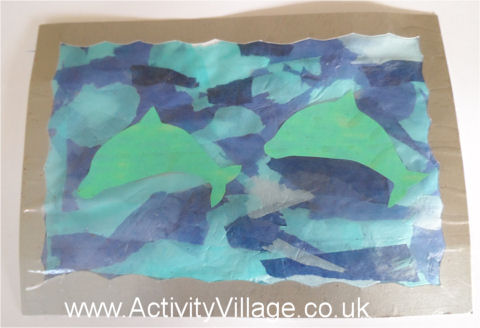 You will need:
Clear sticky back plastic (book film)
Silver card
Blue holographic card
Blue tissue paper in various shades
Optional: dolphin template
Instructions:
Carefully cut the centre from the silver card to make a frame.
Cut a piece of sticky back plastic to fit your frame.
Remove the backing and carefully stick the silver card face down on to the plastic trying to keep the plastic as smooth as possible.
On the holographic card, draw two dolphins (or use our template) and cut them out.
Stick the dolphins face down to the sticky back plastic.
Tear small pieces of tissue paper and cover the rest of the sticky back plastic.