Commemorate Hanukkah with this Star Of David Photo Frame craft to do with your kids - it's fun to display or send as a gift to grandparents and family! Remember to sign and date the back of the star - you could laminate first if you want to protect it for prosperity.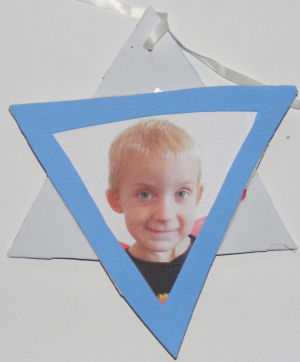 You will need (for 2 frames):
Two photos
White craft foam
Blue craft foam (ideally sticky backed – but you can use glue instead)
Ribbon
Glue
Instructions for 2 frames:
From the blue foam cut two triangles the same size. Cut the middle from each triangle so you are left with a frame.
Stick or glue a frame to each photo. Remember to have one where the triangle points up and the other with the triangle pointing down.
Cut off the excess photos. Back each triangle with white foam, again trimming off any extra foam.
Glue the two triangles together to form a 'Star of David'. Make a hole in the top point and thread through some ribbon to hang.
Explore Activity Village