These stuffed pumpkins are such a fun craft for kids to make - and they look really great in your Halloween display! How about standing one at the front door for each member of the family, to welcome Halloween visitors?
You will need:
Paper bag
Orange and green paint
Black marker pen
Old newspaper
String
Instructions:
Lie the paper bag flag and paint the bottom orange and the top green. When dry, turn over and paint the other side the same.
Make 2 or 3 slits down the sides of the bag to the bottom of the green paint. Fold open carefully and paint the top of the inside of the bag green too.
Draw a face on the bag with black pen.
Fill the bag with scrunched up newspaper and then tie a piece of string around the bag at the top of the orange paint. Simple, satisfying and very cute!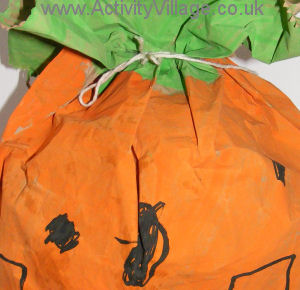 Explore Activity Village