Sudoku for Kids
Sudoku for kids is one of the oldest sections of Activity Village and remains one of our most popular. We were one of the first sites on the web to offer sudoku for kids and we're very proud of that.
Sudoku is an excellent way for kids to develop their logic skills while having fun, and children as young as 7 or 8 can begin to enjoy them. No maths is needed to complete the puzzles, and no guessing should be necessary either! Scroll down for Sudoku puzzles to print and solve.
If you are a beginner to sudoku or could use some tips for solving the puzzles, have a look at our How to do Sudoku Puzzles guide.
We have free puzzles below, but if you want more, or would prefer the convenience of having a carefully graded collection of puzzles, you might also like to have a look at our newly-revamped, best-selling download Sudoku for Kids - we've sold thousands of copies since 2005!
Sudoku for Kids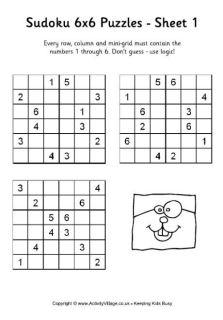 With traditional sudoku puzzles you need to fit the required numbers into the grids so that each...
Our word sudokus are solved in exactly the same way as traditional sudoku puzzles: you just have to...
Explore Activity Village