Summer Learning Hub (SLH)
It's been a strange year for all of us. Many kids have been out of school since March and won't return until September. Even a normal 6-week summer holiday is a long time to keep the brains ticking over, and children often lose hard-won skills over those summer weeks.
So we thought that this year we would do something a little different! We've curated six week's worth of themed resources and activities - some "old" and LOTS new - with the aim of helping you to keep the kids busy, entertained, creative and learning each week.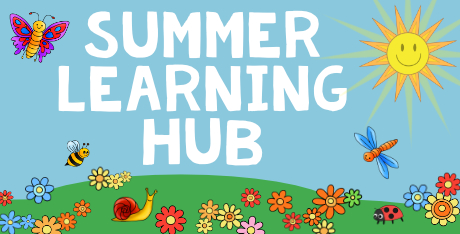 Welcome to the Summer Learning Hub!
Designed to help you find age-appropriate activities for your children quickly and easily, we'll have a new theme each week.
Visit each Sunday and find a week's worth of themed activities ready and waiting for you.
Resources and activities are curated by UK school year so that you can find just what you need. If you have more than one child, they will all be enjoying the same theme.
We'll be including some "fun" maths, reading and writing ideas each week as well as puzzles and crafts.
Please Note...
We suggest you start by looking in the school year that your has just finished. That way you'll find resources to revise what they will have been learning in the past year.
Every child is different! You might want to jump ahead, or jump back ... just find what's appropriate for your child.