Suriname
Find out a little about the South American country of Suriname and enjoy our flag printables and worksheets...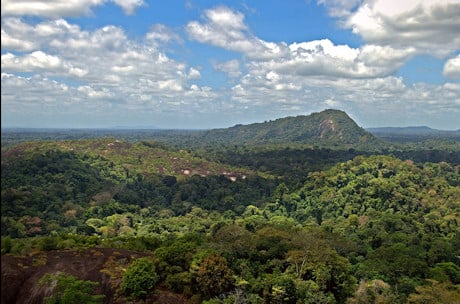 View of the Amazon jungle from the summit of Mt Volzburg in Suriname. With thanks to David Evers
A Little Geography...
The Republic of Suriname lies on the north Atlantic coast of South America, between Guyana and the French Guiana. Brazil forms a southern border.
Suriname's population of 550,00 is a rich ethnic and cultural mix of Indo-Pakistani and Creole with Javanese and Maroons, descendents of escaped African slaves, who live along inland rivers.
Indigenous Amerindians tribes continue to live in the sparely populated south.
The capital, Paramaribo, meaning 'city of flowers', is an inland port and home to almost half the population.
Suriname is one of the world's greenest countries. Over 90% is covered with pristine Amazonian forest.
The Guianas region is rich in minerals such as bauxite, oil and gold. Illegal mining is causing pollution which damages the ecosystem and rainforest.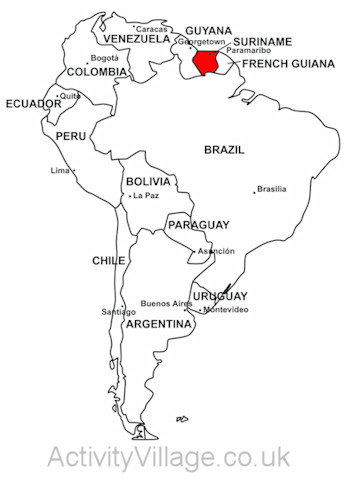 Surname on map of South America. We have a printable version of this map here.
A Little History...
Britain and Dutch traders established sugar cane plantations here in the early 17th century.
In the 1667 Treaty of Breda, the Dutch chose to keep Suriname, known as Dutch Guinea, and gave New Amsterdam, now called New York, to the British!
Suriname became independent in 1975.
And Some Fun Facts...
The Suriname River is 480km long and like many Amazonian rivers contains pirahnas. Luckily a 1.5 km bridge was built across the river in 2000 so no-one has to swim!
Dutch influences include street names, canals, bicycles and food like pancakes. Cars drive on the left, as in the UK, not on the right, as in Holland.
Dutch is the official language, but Hindustani and Saran Tongo, a Creole langauge, are widely spoken.
The St Peter and Paul Cathedral is said to be the biggest wooden building in the Western Hemisphere at 60 metres long and 44 metres tall.
The Central Suriname Nature Reserve, covering 1.6 million hectaires of primary rainforest, is home to jaguars, tapirs, giant otters and sloths - but no human inhabitants.
The blue poison dart frog found in the south is sapphire blue to warn predators that they will die if they eat it!
Suriname's food is as multicultural as its people, with Javan satay and Indian roti very popular.
Edgar Davids, the Dutch international footballer, was born in Paramaribo.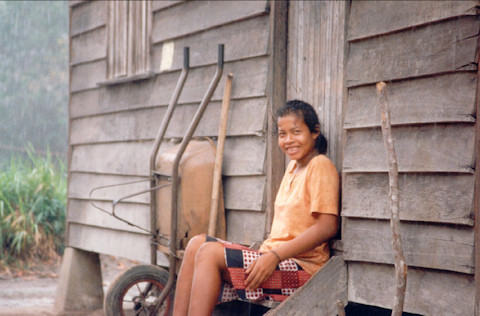 Watching the rains, Suriname. With thanks to Ahron de Leeuw
---
The Suriname Flag
The flag of Suriname consists of five horizontal bands of green, white and red. There is a gold star in the centre, which symbolises the diverse ethnic groups in Suriname. The flag was adopted on November 25, 1975.
---
Our Suriname Resources
Explore Activity Village