Refer to our main bangle page for instructions on making the basic bangle.
You will need:
Basic bangle
Kitchen foil
Double sided sticky tape
Sparkly sweet wrappers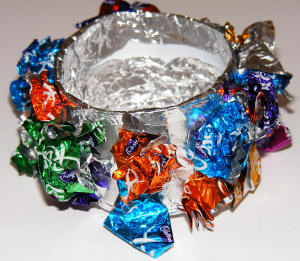 Instructions:
Wrap your bangle in kitchen foil. You can glue it if you like but if you wrap it tightly you shouldn't need to.
Stick a two lengths of double sided tape around the bangle. Remove the covering of the tape. Scrunch up sweet wrappers and stick them to the tape.