Switzerland
Get a taste of the country of Switzerland with our "fun facts" and enjoy our flag printables with the kids!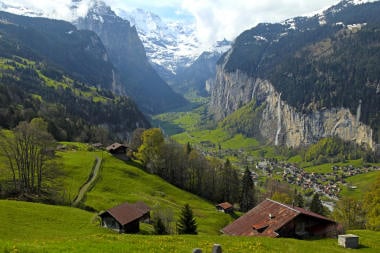 A pretty mountain village and Alpine pastures, Switzerland
Learn about Switzerland
Switzerland is a small mountainous country in the middle of Western Europe between France, Germany, Italy, Austria and Lichstenstein.
There are 17 peaks above 4,000 metres in the Alps, such as the Matterhorn and the Jungfrau. Alpine passes link northern Europe to the south and have been used since Hannibal's day to cross this rugged land.
Lake Geneva is the largest of the many beautiful deep lakes that provide fresh water, food, power and recreation to this landlocked country.
National Day on August 1st celebrates the date in 1291 when people from the cantons of Schwyz, Uri and Unterwalden met to agree to defend each others freedom and to create the nation of Switzerland.
The Swiss are an independent race and happy to stay neutral in disputes which makes the country an ideal venue for peace talks. Many international organisations have their headquarters near Geneva and Lausanne including the Red Cross, the World Trade and Health Organisations and the International Olympic Committee.
Switzerland is a federal republic divided into 26 cantons, with Bern, the capital, hosting the Parliament.
There are four national languages. Swiss German is spoken in the centre and north by 60% of the 8 million population, French is spoken around the Geneva region, Italian is the language in the south and Romansh in the Graubunden in the east!
Zurich is the biggest city. Like many Swiss towns it sits on a lake surrounded by hills with snow capped mountains in the distance. It is famous as a financial centre but has historically hosted artists and writes from Chagall to James Joyce. It is one of the world's highest ranked places in which to live.
Switzerland has a proud history of producing high quality goods which are exported around the world - from luxury watches to chocolates.
The Jungfraujoch is the highest railway station in Europe at 3,453 metres. It costs 190 Swiss francs to take the train, which goes through the Eiger mountain.
The Cresta Run toboggan course in St Moritz was built in 1885 and is remade each year from fresh ice. It is very dangerous.
Carnivals are very popular. In Basle the biggest celebration, fasnacht, begins at 4am on Ash Wednesday. Thousands of people wearing costumes and masks drink and play loud music over three days. Confetti covers the streets and it is very hard to sleep if you live in the town centre!
Heidi, the story about a young orphan girl sent to live in the Alps with her grandfather, was written by Johanna Spryi. It is the most famous Swiss book and has been translated into over 50 languages. If you haven't read it yet, you should - even though it is a little old-fashioned.
William Tell is Switzerland's national hero. He came from the canton of Uri and was forced to shoot an apple off his son's head because William had insulted the Hapsburg bailiff who had been sent to control trade in Uri. He was imprisoned but escaped to seek revenge on his Hapsburg captor, and has been celebrated in monuments, music and on coins as a symbol of national freedom.
Swiss stamps have the word Helvetia, not Switzerland, on them. The Helvetii were a fierce tribe living in western Switzerland who fought a war with Julius Caesar.
Here's a page full of Swiss flag printables, which you can use in your projects at home and...
We have location and fact finding worksheets to help your children learn more about the beautiful...
Explore Activity Village