This gorgeous tiara craft is perfect for girls of all ages and can be adapted in many ways - see our photos below.
You will need:
Two green pipe cleaners (chenille stems)
Pink/ purple craft foam or pre-cut shapes
Flower shaped craft punch
Glue
Instructions:
Cut one of the pipe cleaners into 6 pieces. Punch 6 flowers from the foam and glue to the ends of the small pieces of pipe cleaner, leaving to dry.
Bend the remaining pipe cleaner into an arc. This is the 'band' of your tiara. Twist the smaller pieces of pipe cleaner onto the band.
Variations:
Sparkly tiara:
Use kitchen foil cut into rectangles and then rolled and twisted instead of pipe cleaners, and sparkly card instead of foam.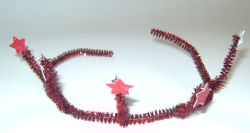 Fairy tiara:
It depends what type of fairy. For a flower fairy, the first pipe cleaner is perfect. For a Christmas fairy use sparkly pipe cleaners, glittery card and a star craft punch.
Explore Activity Village