Make this tissue paper snowflake with the kids for a quick and easy Christmas or winter decoration. It's a classic idea but it never loses its appeal, and as the kids get older the snowflakes can get more and more complex. Using tissue paper rather than normal white paper makes it easier for younger children to cut their designs.

A simple tissue paper snowflake, designed by Sam
You will need:
Tissue paper in an 'icy' colour
Instructions:
Cut a circle of tissue paper. Fold in half. Then fold into 3 so you have a wedge shape.
Carefully cut small bits out of the edges. Make sure that you don't cut right the way through the folds!
Unfold to reveal your snowflake!
We make a collection of these and tape them to our window every Christmas. Using tissue paper makes them translucent in the window, and very pretty!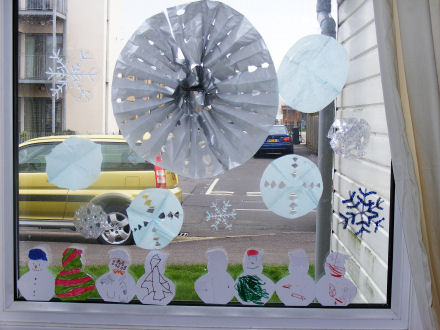 You can see quite a few tissue paper snowflakes in this window!