This really is a fun monkey craft for the kids to try - they will love the way that the monkey can "climb" his own tree! It is trickier to explain than it is to do, so we've included lots of photos to help.
For the monkey, you will need:
Cardboard tube
Brown paint
Scrap of paper in cream
Glue
Brown pipecleaner
Black marker pen
Wiggle eyes
Instructions:
Paint the tube brown, inside and outside. Leave to dry.
Squash the cardboard tube flat.
Carefully cut slits half way down each fold and the cut across to remove half of one side of the tube.
Holding the remaining tube part tightly in half, cut away a small rectangle about a third of the way along. This makes the legs.
Cut the remaining layer of the other half of the tube into a head shape.

Creating the monkey's body
Cut a face from cream paper, draw on a nose and mouth. Stick to the head and add the wiggle eyes.

Our monkey's face, close up
Make a hole in the tube at the back with a pen or pencil and push through the pipecleaner. Twist the pipecleaner to make a tail and cut off any extra.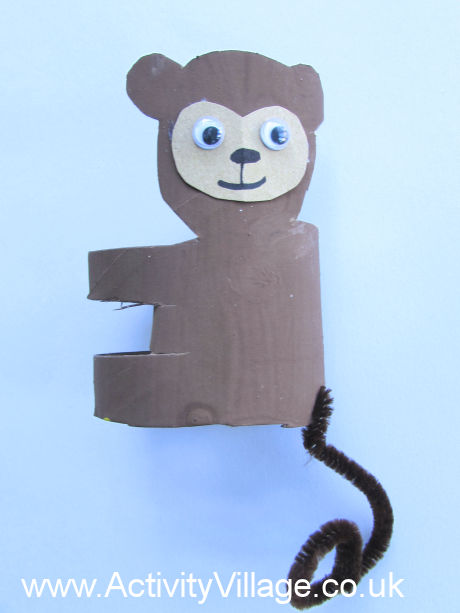 For the tree, you will need:
A longer paper tube (kitchen roll sized at least)
​Green paper
Instructions:
Cut out leaves from green paper and tape them to one end of the tube.
Slide the monkey onto the tube and stand your tree up.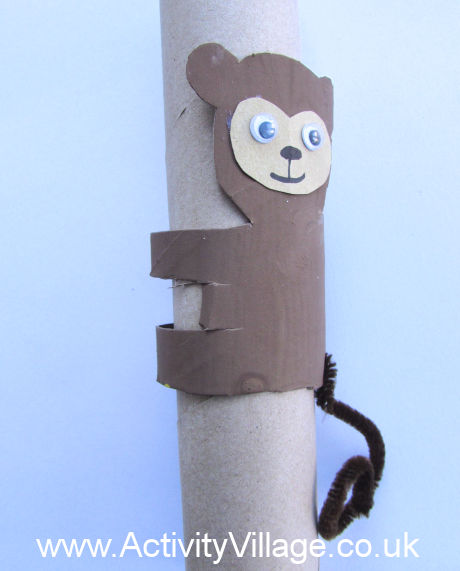 Monkey climbing a tree!