Tonga
Learn some interesting facts about Tonga - a collection of 170 islands in the South Pacific. And while here, why not make use of our Tonga flag printables and flag colouring page!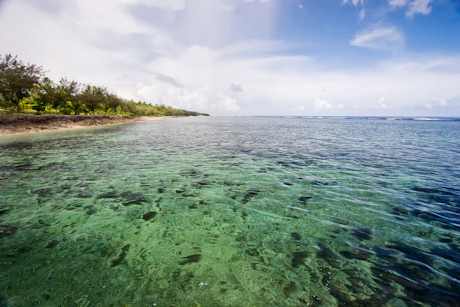 Ha'atafu Beach, Tongatapu Island, Tonga
A Little Geography...
The Kingdom of Tonga in the South Pacific consists of more than 170 islands spread over 740,000 km sq. It sits north of New Zealand and south of Hawaii, surrounded by other Pacific nation states.
There are three groups of islands: Tonga'tapu, Ha'apai and Vava'u.
The volcanic islands are covered with pristine rainforest, white beaches and coral atolls.
The Mapu 'a Vaea or 'Chief's Whistles' are a series of blow holes in the coral of Houma which spouts water 20 metres into the air.
Among the exotic flora and fauna are flying fox fruit bats called Peka and red green Eau parrots.
Tonga'tapu is the largest island and home to the capital Nuku'alofa.

Rural Tonga - an aerial view of Tongatapu Island
A Little History...
Dutchman Abel Tasman was the first European visitor in 1643, after he had discovered New Zealand and Tasmania.
Tonga was dubbed "the Friendly Islands" by Captain James Cook when his expedition visited in 1773 - although he didn't realise that the islanders may have been planning to kill him!
The infamous Mutiny on the Bounty took place near Tonga in 1789 when Lieutenant Bligh and 18 men were put in a 7 metre boat by mutineers. They found their way to Timor over 6,700 km away in 47 days.
In 1848 the Kingdom of Tonga united the islands. The first king was called King George Tupou I.
Tonga gained independence from British Protection in 1970 and joined the Commonwealth.
Some Interesting Facts...
Tonga is the only Pacific island nation that was not colonised.
Rugby is the national sport with many Tongan stars playing abroad in New Zealand and Australia.

Here you can see Tonga on a map of Oceania. We have a printable version of this simplified map here.
---
About the Tongan Flag
The Tongan Flag is one of the oldest flags of the island countries in the South Pacific Ocean and was officially adopted on November 4, 1875. The flag's red cross represents Christianity coming to the islands.
---
Our Tonga Resources
Explore Activity Village