Tuvalu
Here is our brief introduction to the island of Tuvalu, an island in the Pacific Ocean. Scroll down for Tuvalu flag printables and Tuvalu flag colouring page.

A Tuvalu scene (photo by Tomoaka Inaba, Creative Commons LIcence)
The Pacific island of Tuvalu, settled by Polynesians 2000 years ago, consists of six atolls and three islands lying midway between Hawaii and Australia. It was previously known as the Ellice Islands.
Tuvalu means 'eight islands' although there are now nine.
With only 26 square kilometres of land, Tuvalu is the fourth smallest country in the world (after the Vatican City, Monaco and Nauru). It has a population of around 11,000, mostly centred around the town of Funafuti.
The land is only 15 feet above sea level and is under threat from rising sea levels due to global warming.
First inhabited by Polynesians, the islands were sighted by Spaniards in the 15th century and declared a British protectorate in the late 19th century.
Charles Darwin visited the region in 1842 to discover how the formation of coral below the sea level could result in rocks that were exposed as islands.
Tuvalu became fully independent in 1978.
Prince William and Kate Middleton visited Tuvalu in 2012.
---
About the Tuvalu Flag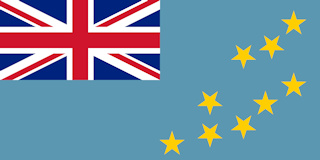 The nine gold stars on the Tuvalu flag are symbolic of the nine islands within its borders, and the Union Flag represents Tuvalu's long association with Great Britain.
---
Our Tuvalu Resources
Explore Activity Village