Uganda
From savannah to fertile rainforests, Uganda is a fascinating country. Learn some fun facts with the kids and enjoy our printable activities and flags...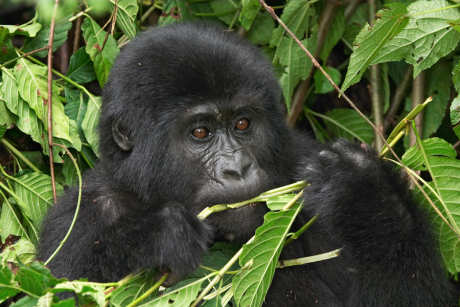 A gorilla baby in the Cloud Forest of Uganda
Fun Facts About Uganda
A central African country that sits atride the equator, Uganda combines savannah - such as the Unesco Queen Elizabeth National Park containing wild game - with fertile rainforests, where mountain gorillas are under threat from habitat loss.
Lake Victoria, the second largest freshwater lake in the world, sits along the southern border with Tanzania and is the site of the source of the Nile.
Bantu speakers settled in southern Uganda after 1000AD and formed new ethnic groups including the Baganda, who were centred around the capital Kampala. The name Uganda is a Swahili word for Buganda.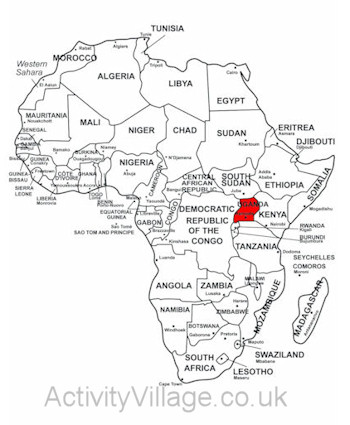 You can print this map of Uganda on Africa here
Despite a volatile recent history since independence from Britain in 1962, Uganda has recovered from civil war to become more stable since the 1980's.
Uganda is a bird watcher's paradise with over 1000 species.
Ugandans like to eat crickets, in addition to matooke a dish of steamed plantains.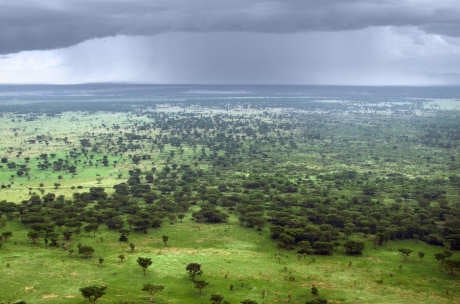 Queen Elizabeth National Park, Uganda
---
The Ugandan Flag
The Ugandan flag stands out from the crowd! It was adopted in 1962 when Uganda became independent from the United Kingdom. It consists of six equal horizontal bands of black, yellow, red, black, yellow, and red. In the centre you can see a white circle on which a grey crowned crane, the national symbol, sits proudly. The three colours are representative of the African people, Africa's sunshine, and African brotherhood.
---
Flags and Other Printables
Explore Activity Village