Perfect for your Independence Day parade or picnic, this Uncle Sam Hat is fun to make and will help your child celebrate the Fourth of July in style!
You will need:
A2 blue card
A2 white card
Red paint
Small star craft punch or white paint
Sticky tape
Glue stick
Cut a strip about 5 inches wide off the width of the white card, and put this to one side. Paint red stripes widthways across the remaining white card.
On the blue card draw around a small plate. Cut around the circle leaving tabs as shown:
On the remaining blue card draw around a large plate and cut out. In the centre of this large circle draw around the small plate again. Cut out the centre of the circle leaving tabs as shown: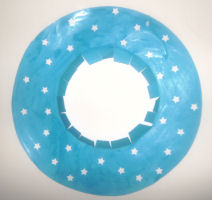 Punch out some stars from the piece of white card that you discarded earlier and glue these to the circles. Alternatively paint on stars in white paint. Leave to dry.
Take the small circle and fold down the tabs. This will be the top of the hat. Lay the white card stripy side down on the table. Glue or tape the tabs securely along one edge of the card. The stripy card will roll into a tube as you work. Secure the stripy card into a tube with a piece of sticky tape.
Stand the hat on its top. Take the large blue circle and fold up the tabs so that they fit inside the tube of stripy card at the bottom. Glue securely and wait until the glue dries before you wear your creation!

Doesn't Jack look great in his Uncle Sam hat!