Here is a handprint craft with a difference, perfect for kids of all ages to make at Halloween!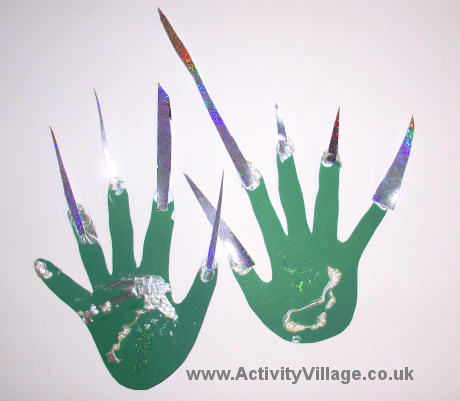 You will need:
Green card or paper
Scraps of black, red or purple card, paper, felt etc
Pencils
Instructions:
Draw around the children's hands onto the green card and cut out.
Use the scraps of paper or card to cut pointed oval shapes for finger nails and stick them on - embellishing, if you like, with glitter.
Draw some spidery veins onto the back of the hands (use your own hands as inspiration).
Why not add a wart or two? Make them by scrunching tissue paper into a tiny ball and sticking onto the hands with white glue.
Use the hands to decorate a notice-board, the fridge, or the Halloween table (place them on either side of a plate for a humorous effect). If you attach them to the edge of doors with sticky-tack it looks as if someone spooky could be hiding on the other side!
Alternatively, attach plain white paper to the back of the hands and use them as invitations!
Explore Activity Village