This gorgeous witch puppet is fun to make and fun to play with, too!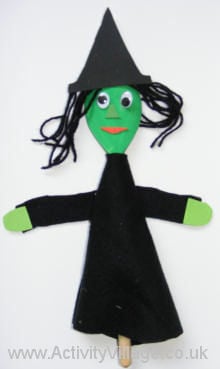 You will need:
A wooden spoon
Green paint
Black wool
Black craft foam
Green craft foam
Scrap of red craft foam
Black felt
Glue
A pair of wiggle eyes
Instructions:
Paint the spoon green and leave to dry.
Cut a quarter circle of black felt. Trim off the corner. Paint glue around the base of the spoon handle and then stick on the felt, rolling it into a cone with the point at the bowl of the spoon. Glue the seams of the cone together. This is your witch's dress.
To make the arms, cut a narrow rectangle of black felt (see photo for size guide). Glue this to the back of the dress so the two ends stick out either side. Cut two 'hands' from green foam and glue them to the ends of arms.
For the witch's hair, cut about 8 lengths of black wool and stick them to the top of the spoon bowl.
Cut a triangular shape for the witch's hat from black foam and glue this to the top of the spoon bowl over the wool.
To finish off, stick two wiggle eyes, a crooked nose (cut from green foam) and a red foam mouth to the bowl of the spoon. Now play with your witch puppet!
Explore Activity Village