Year of the Snake
Chinese New Year 2013 welcomes in the Year of the Snake! We've got lots of brand new snake-themed fun for kids, including printables, colouring pages, crafts, games and much more! We also have a page full of more general Chinese New Year activities, and a China for Kids theme for you to explore. Find all our Year of the Snake activities below!
Children born in the Year of the Snake are often great thinkers and very wise! They like a peaceful, private life and tend to shy away from noise, but they love possessions and always like to have the best. They work hard, but they also need to relax and take regular holidays. It can be hard to get to know a snake because they keep their feelings to themselves, but once they have accepted you as a friend they will be very loyal and expect complete loyalty in return.
More Snake Activities
We've got many more fun activities with a snake theme. Browse the sections below...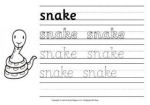 Snake Worksheets
Tracing, writing, sorting worksheets, all with a snake theme...
Snake Games
Games to play online in our safe environment, games to print and play, our take on a classic board game, and more!
Snake Crafts
A fabulous collection of snake crafts for all ages using everything from corks to paper plates and lots more from the junk drawer!
Snake Colouring Pages
Snake colouring pages for all ages...
Snake Printables
Enjoy snake masks, a snake mobile, posters, acrostic poem printables, and lots more.
Explore Activity Village