Zimbabwe
Find out some fun facts about Zimbabwe with the kids, and enjoy our printable flags and other activities.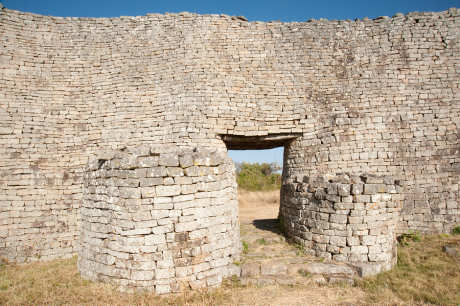 Great Zimbabwe ruins
Fun Facts About Zimbabwe
The Republic of Zimbabwe shares its northern border with Zambia and the beautiful Victoria Falls, known locally as 'the smoke the thunders' because of the noisy volume of water.
This landlocked country, formerly known as Rhodesia, was a rich gold trading nation from the 10th century. It reached its zenith when the Shona people built impressive dry stone structures such as the ones at Great Zimbabwe, where carvings of the Zimbabwe bird, the national symbol, were found.
From 1885, Europeans colonists such as Cecil Rhodes sought to exploit the rich natural resources of the region. After a period of white rule, independence was finally achieved in 1980.

You can print this map of Africa, with Zimbabwe marked, here.
Sadly the one party state regime that succeeded has not established economic prosperity, leading to very short life expectancy for the majority of the 12m population, of whom 10% live in the capital Harare.
Zimbabwe's rugged country contains many large National Parks in which large mammals such as the big five can be seen, although there is significant pressure on the animal numbers from poaching.

Rainbow at Victoria Falls
---
The Flag of Zimbabwe
The flag of Zimbabwe consists of seven horizontal stripes of green, yellow, red and black, with a white triangle containing a five-pointed star and a representation of a statuette of an ancient soapstone bird found at the ruins of Great Zimbabwe. The flag was adopted in 1980, when Zimbabwe became independent from the United Kingdom.
---
Flags and Other Printables
Explore Activity Village