This is a simple advent craft which might make a fun collaborative project for the classroom and would certainly brighten up the playroom or kitchen! Children simply move Santa from cloud to cloud as December progresses. For fun you could substitue a photo of your house...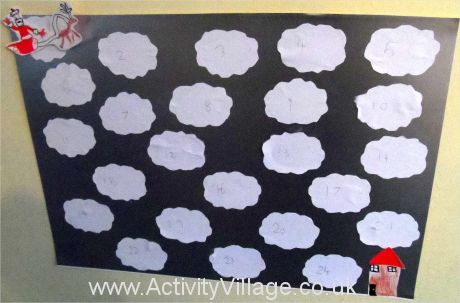 Apologies for the quality of the photos for this craft - Sarah's camera was not co-operating!
You will need:
Large sheet of card (ours is A2)
Marker pens
White paper
Sticky tack
Glue
White card
Instructions:
Draw and colour a small house. Cut out your picture and glue to the bottom right hand corner of the card.
Cut out 24 clouds and label them 1-24. Silver glittery number stickers would look great, but we've just used a marker!
Glue the clouds to the card, in order, starting in the top left corner and ending at the bottom right, with 24 nearest your house.
Draw Santa and his sleigh on white card. Cut out. Use sticky tack to stick Santa to the poster.
Each day move Santa a cloud closer to the house!

Sam with this Advent poster
Explore Activity Village