This is a lovely, decorative homemade advent calendar - with a difference! Rather than discovering a treat every day, we write down one thing that we have enjoyed, something we are grateful for, or a special memory, just before bedtime. We are using small white cards, and then pegging them onto the appropriate day. It's an advent calendar craft which encourages children to think about the real meaning behind Christmas, rather than get distracted by the gifts and the commercial aspects of the festive season.
We have a free printable of the tartan hearts (scroll down to the bottom of the page to find it).
You will need:
Polystrene or thick card base from a pizza
Green and red acrylic paint
24 wooden clothes pegs
Green and red marker pens
Strong hi tack glue (or a glue gun, supervised)
White card
Number stickers (or perhaps a gold marker pen)
Our printable hearts (below) or your own
Instructions:
Cut the middle from the pizza base to make a wreath.
Paint the wreath in red and green.
Using the marker pens, colour half the clothes red and half green.
Glue the pegs around the wreath so that they open on the outside of the wreath.
Print 24 tartan hearts onto card. Cut out the hearts and use the number stickers or gold marker to label them 1-24.
Glue the hearts to the front of the pegs.
Peg a message to the wreath on every day of advent.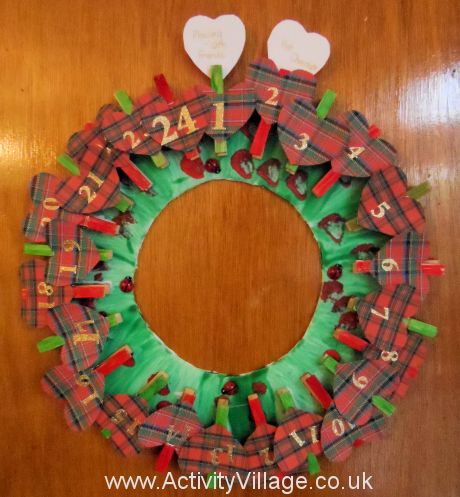 Our advent calendar happiness wreath in action. You can see we are using heart shapes for our happiness message, but you could use simple squares or rectangles.