Clare and her son learn about writing different kinds of poems for Remembrance Day in this guest post, using printables from Activity Village.

---
Writing Poems for Remembrance Day
By Clare
There is a quote often used at this time of year, for Remembrance Day: "If we are to maintain our peace and freedom, we must always remember." But remembrance and war can be a difficult subject to talk about with our children. We don't want to frighten or worry them, but we want them to learn about how war has changed our world, understand something about those that are affected by wars, and to learn about the importance of peace.
Last year, when 11th November marked 100 years since the end of the First World War, we we lucky enough to visit the Imperial War Museum North to see the thousands of ceramic poppies installed there. The poppies had previously formed part of Tower of London exhibition Blood Swept Lands and Seas of Red.

A close-up of the ceramic poppies
This year, both my sons will be joining their Scout troop at a Remembrance Parade at our local war memorial on Sunday.
My youngest son has been learning how to write poetry at school this term and wanted a little extra practise, so he decided to try a couple of the Activity Village Remembrance Day poetry worksheets this week.
World War One more than any other war is associated with the work of the 'war poets', and for inspiration we read some of the Remembrance Day poetry on the Activity Village website (we printed out a couple of the poems, but you could read them online if you prefer).
My son was already familiar with the famous verse from the poem "For the Fallen" by Laurence Binyon (which begins "They shall not grow old"...) from Remembrance Day services, so we started looking at this poem first before reading some less well known war poems. We discussed how poetry from the start of the First World War was often brave and optimistic, but as the war progressed it became grittier and more melancholy.
Like a lot of children, my son can find it tricky to get started writing poetry, so he tried the Remembrance Day acrostic poem printable to help spark a bit of creativity. This acrostic poem uses the first letters of the word 'REMEMBER' to start each line, and it's a good way to get kids thinking of what to write next. The red poppy border looks great for displays in the classroom or at home or you can print the black and white version and let the kids colour in the border illustration themselves. You can also choose from lined or blank versions – the blank version also makes a great frame for Remembrance Day artwork or other writing activities.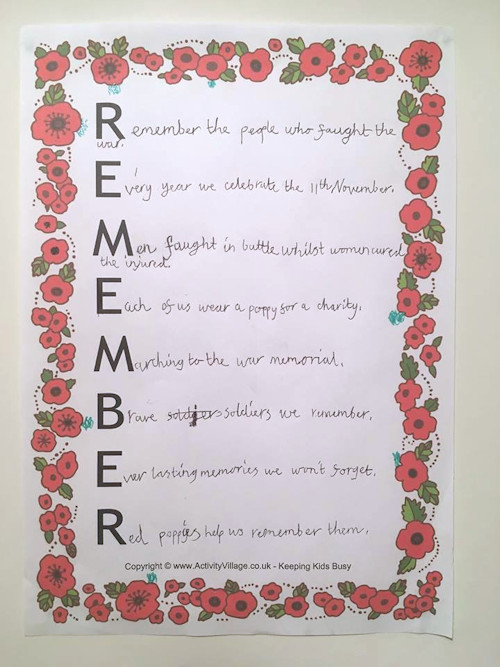 This was quite a long and tricky acrostic poem to write, but he really enjoyed the challenge. If your children are younger they might prefer the shorter 'POPPY' acrostic poem printable.
For his second poem, my son tried the Remembrance Day Sensory Poem Planning Sheet.

Writing his Remembrance Day sensory poem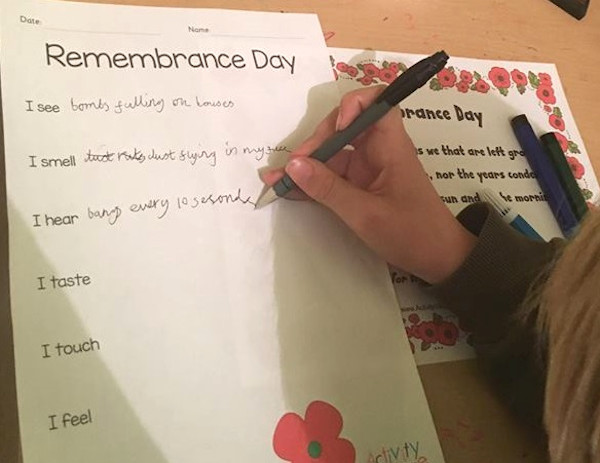 Sensory poems are a great way to encourage children to bring their poetry writing to life, by using words to describe their senses. My son has recently enjoyed reading a school book about the Blitz during the Second World War, so he wrote his poem through the eyes of a survivor of the Blitz.
Writing a poem from the point of view of a soldier or war survivor might be a little scary for younger children, but they could try writing a sensory poem about a Remembrance Day parade instead. There are also lots of Remembrance Day activities on Activity Village that are suitable for children of all ages, such as poppy crafts and colouring pages.

This is a guest post from Clare, who helps us by writing content at Activity Village.
Tuesday, 5th November 2019