This is a brilliant nature craft for kids, who will love creating their own grass head monster and watching him sprout hair!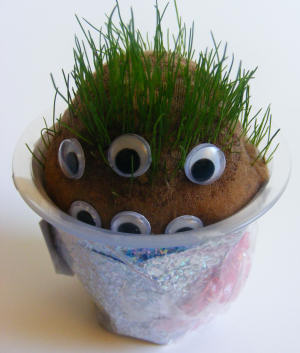 You will need:
A nylon sock or a foot from tights or a stocking.
Grass seed
Sawdust
Elastic band
Old yogurt pot
Googly eyes
Paper, buttons, ribbon etc to decorate
Instructions:
Fill the toe of your sock with grass seed. Top up with sawdust until you have a ball shape. Fasten tightly with the elastic band.
Decorate the yogurt pot as the body using, paper, ribbon, and whatever else you can find in your craft box!
Stand the stocking ball in the pot with the grass seed at the top. Add some eyes and any other decorative bits you like.
Keep the yogurt pot topped up with water. After a few weeks your head should grow hair!
Explore Activity Village