Belarus
Find out a little about the Eastern European country of Belarus, and print out its flag in a number of useful printable formats...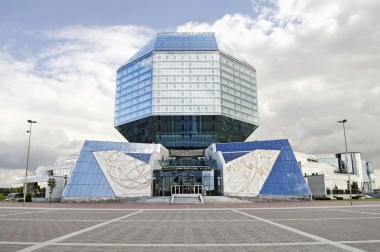 The National Library in Minsk, capital city of Belarus
Learn About Belarus
Belarus, or Republic of Belarus, is a land-locked country in Eastern Europe. Belarus has been independent from the Soviet Union since 1991.
One third of Belarus is covered in forest
The name Belarus means White Russian
Belarus has a population of just under 10 million people, 70% living in urban areas.
The Chernobyl nuclear disaster in 1986 took a heavy toll on Belarus. Although the nuclear plant was just south of Belarus, in the Ukraine, 70% of the radiation fell onto Belarus territory. About 25% of the land is still regarded as uninhabitable.
You will find all our standard flag printable formats for the unusual Belarus flag here - including...
We have a simplified outline map of Europe, showing the location of Belarus, as well as some fact-...
Explore Activity Village