When I was young, growing up in Hong Kong, the sight (and sound) of Chinese fortune sticks like these being used at temples was very familiar and exciting to me. Bundles of these sticks were placed in jars and gently shaken until a few sticks stuck out above the rest, or fell out.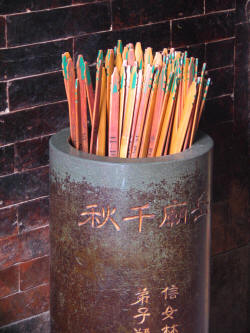 Real Chinese fortune sticks
We've made our own crafty version for your kids to have fun with. They can use our ready-made fortunes or make up their own! All you will need is a good supply of lolly sticks (popsicle sticks), a snack can, pens and paper.

Our Chinese fortune sticks!
Decorate your snack can with paper, paint, gold pen, stickers - whatever you like and have to can. Now number your lolly sticks neatly, and place them in the can, numbered end down. We have 78 ready-made "fortunes" in the printable below, but you can do more if you like.
Holding the can almost upright, shake gently until 1 or more sticks begin to stick out above the others. Take them out, look up your number, and read your fortune in the booklet below!
Chinese fortune sticks - with fortunes
-
Log in
or
Become a Member
to download
Chinese fortune sticks - blank
-
Log in
or
Become a Member
to download
Explore Activity Village