Children can try making this pretty coffee filter rose for Valentine's Day or Mother's Day - it's so pretty, who wouldn't be happy to receive it!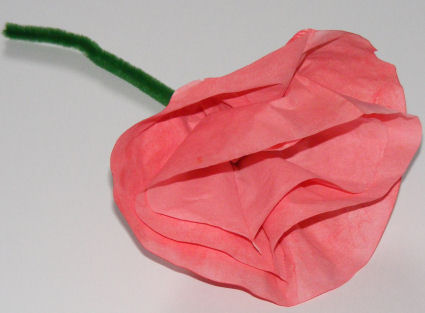 You will need:
3 coffee filter papers
Red paint
Green chenille stem
Instructions:
Water down the paint (approx 4 parts water to one paint). Paint the filter papers. Let dry (you can speed things up by drying out in the oven on a very low heat for a few minutes).
Trim two of the filter papers so you have three different sizes. See photo below.
Fit the smaller two papers inside the largest. Open out into a cone shape and twist the bottom to form a point. Wrap the chenille stem around this to hold the papers together. Leave the other end of the chenille stem loose to be the flower stem.