Dominica
You've come to the right place if you want to find a few interesting facts about Dominica that you can share with the kids, and print out some Dominica flags and flag colouring page!

Dominica coastline
A Little Geography...
The Commonwealth of Dominica is an island in the Carribbean.
At about 290 square miles it has a population of just over 70,000.
The capital is Roseau.
A volcanic island, Dominica has the world's second largest hot spring, Boiling Lake.
The mountainous rainforests are home to many rare plants, animals and birds.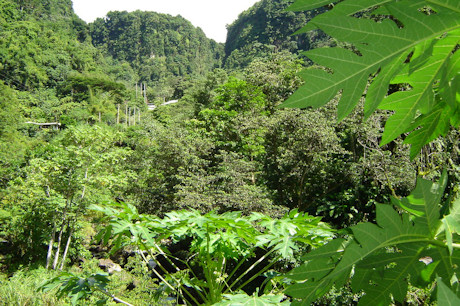 Rainforest in Dominica
A Little History...
Christopher Columbus spotted the island on Sunday 3rd November 1493, and named it Dominica after the Latin name for Sunday (dominica).
The island remained isolated for a hundred years or so, until Caribs started to settle there as they were driven from other islands in the region by the Europeans.
France colonised Dominica in the early 18th century and brought in African slaves to work in the plantations.
France ceded Dominica to the British in 1763, and a small British colony was established in the early 19th Century.
Dominica became an independent nation in 1978.
And Some Interesting Facts...
Dominica has exactly 365 rivers!
The Sisserou parrot is unique to Dominica and is featured on the country's national flag.
Our Dominica Resources
Find out a little about the Dominican flag, and enjoy our printable flag activities! The national...
Lots NEW! Learn about Dominica with the help of our these fun worksheets, maps and printables.
Explore Activity Village