Here's an Easter bonnet collage activity - a fun way of incorporating the Easter bonnet into your Easter activities even if you are not making your own for an Easter bonnet parade! It would also make a lovely card for grandparents or a take-home activity for children to make in the classroom and give to parents.
You will need:
Card
Straw coloured card
Ribbon
Fabric and foam flowers and other decorative bits.
Our Easter bonnet collage - so pretty and spring-like!
Instructions:
Cut a hat shape from the straw coloured card. Glue this to your backing card.
Stick a length of ribbon around the brim.
Decorate your bonnet with flowers and bows and anything else that takes your fancy.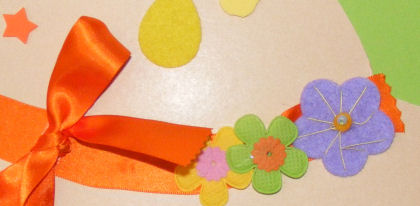 Explore Activity Village