Even the youngest children will enjoy making this pretty fairy collage, and the template provided makes the activity a breeze. You may want to cut out the shapes in advance and leave the decorating and sticking up to the children. You can also find instructions for turning the fairies into finger puppets below.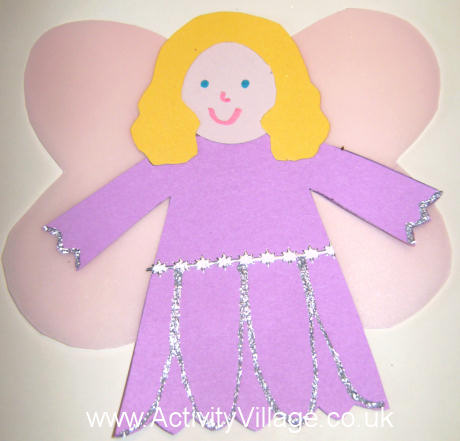 You will need:
Card - flesh or pink for faces and hands, something appropriate for her hair and any colour you like for her dress. Flowery scrapbook paper would be pretty!
A sheet of white card for the background and another for the template
Fancy paper for her wings (we used vellum)
Glue stick
Pens
Glitter glue, stickers etc for decorating
Sticky tape if you want to make a finger puppet
Instructions:
Print out our template (see below) on to white card and cut out the shapes. Trace around them onto the appropriate materials and cut out the parts for your collage. You may prefer to leave the hands out for younger children as they can be fiddly.
Glue the hair to the front of the face, and use your pens to add her features.
Decorate the dress with glitter glue and stickers if you like. Glue the hands to the end of the dress sleeves.
Glue the dress to the wings so the neck is about in the middle, and then glue the head on top.
To make a finger puppet:
To turn your fairy into a finger puppet, cut a piece of card approximately one inch by two inches. Tape one end to the back of the fairy. Tape the other end down close to the first so a loop is formed. Slide your finger into the loop and take your fairy dancing!
Explore Activity Village