Kazakhstan
What do you know about Kazakhstan? It's part of both Europe and Asia, and has one of the world's coldest capital cities! These and more interesting information, and a complete set of flag printables, can be found below.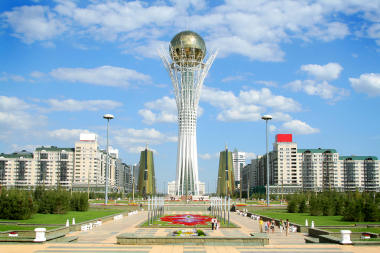 Bayterek Tower in Astana, capital city of Kazakhstan
Learn about Kazakhstan
Geography of Kazakhstan
The Republic of Kazakhstan is a vast landlocked country in Central Asia and Eastern Europe, that dwarfs Western Europe.
The industrial north of Kazakhstan is covered by vast steppe plains, as are the central highlands, whilst deserts feature in the south.
The western region contain wealth producing oilfields and the resorts of the Caspian Sea coastline.
Charyn Canyon, at 80 km, is the second longest canyon in the world and is known as "The Little Brother of the Grand Canyon".
Cities of Kazakhstan
Almaty, the largest city, was the capital until 1998, due to its location on the Silk Road. Its name means 'place of apples', as the apple tree originated in Central Asia.
Medeo Ice Stadium above Almaty can host over 30,000 spectators. At 1691 metres it is the highest outdoor skating rink in the world and has hosted the 2012 Bandy World Championships.
The new capital Astana, located to the country's heart, is one of the world's coldest capitals. It is a modern city built with the profits from oil. Attractions include the Bayterek Tower, which resembles a giant 100 metre tall lollipop, and the Duman Aquarium, which is 3000 km from the nearest sea.
The small southern city of Turkestan was an ancient centre for religious scholars and contains the magnificent Mausoleum of Khoja Ahmed built by Tamerlane. It boasts the largest dome in Central Asia, although it was never completed.
More Interesting Facts
Sputnik 1, the world's first satellite and Yuri Gagarin, the first astronaut, were launched into space from Kazakhstan during the Soviet period.
Wild tulips originated on the slopes of southern Kazakhstan and were taken to Holland by the Ottomans.
Have some fun with our Kazakhstan flag printables and learn a little about it, too! About the...
Explore Activity Village