Over the weekend I decided that we desperately needed some new bookmarks. I feel like there must be a black hole somewhere in our house where all the bookmarks go because we can never find any yet I know we have made bookmarks before. And now the kids are using shop receipts in their books as bookmarks so enough was enough, time to stock up. We found some lovely ready to print bookmarks on the site but after only printing one page of the dinosaur joke bookmarks I realized my ink levels were way too low and we needed to come up with a new plan.

Ready to print dinosaur joke bookmarks
I had initially planned on printing out the witches legs bookmarks just because I really love the idea of some feet sticking out of a book. We have had these before but they vanished into that bookmark black hole! But there are very colourful and not the best when your printed is shouting about low ink levels.
So my daughter chose a colouring bookmark instead. She went with the house bookmarks page, which I really like.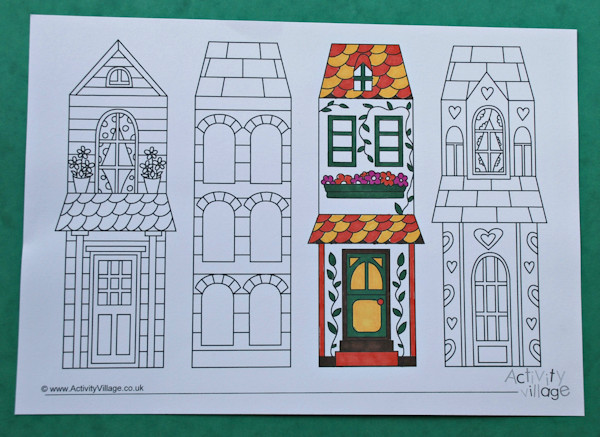 Just starting on the house colouring bookmarks
And for the rest we decided to get crafty. I have lots of coloured card in the house and I always keep the left over images from all our other activities. I have often used the cutting skills pictures with my youngest so I have built up a quite a collection of left over images. The idea was combine the coloured card with whatever picture he wanted and just have some fun. He loved the idea and happily got cutting...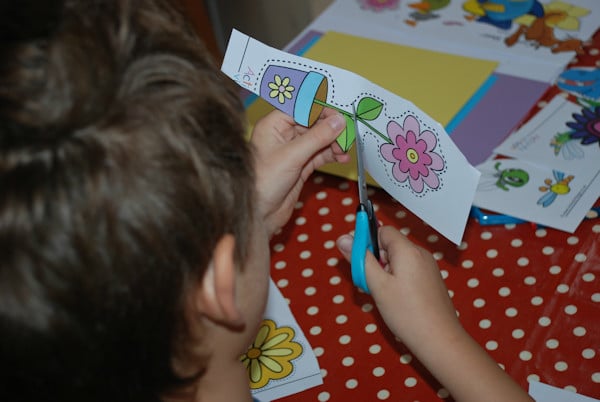 Cutting out images for his bookmarks
...and sticking and organising his images.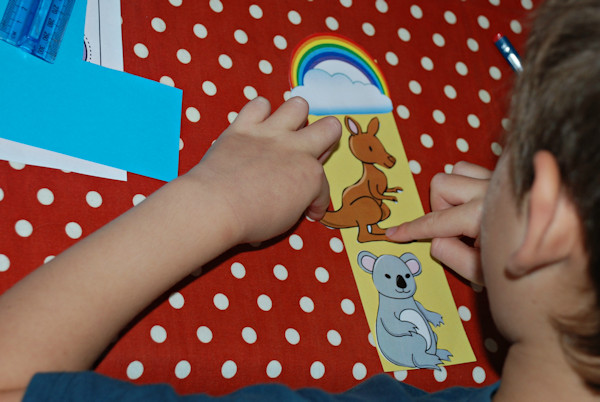 Creating his own bookmarks
It was really such a fun activity and my youngest actually ended up doing a lot of cutting and measuring – it is always good when that sneaks into any craft activity!
And the end results were quite cheerful. Apparently the two flower bookmarks are for me to use.

Some of the bookmarks he made

And more bookmarks!
Just to mention he glued a sun on top of the rainbow – so don't go looking for that image it is a combination of two images!
The house bookmarks turned out really well.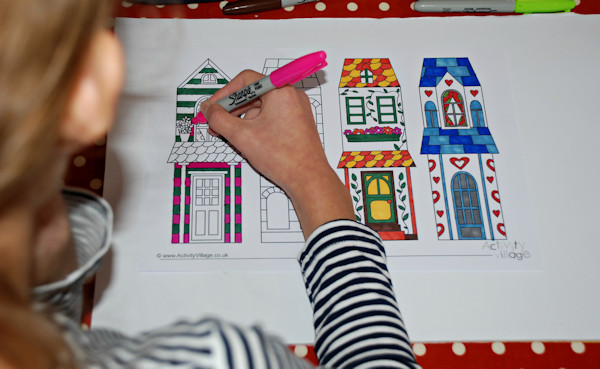 Colouring in her house bookmarks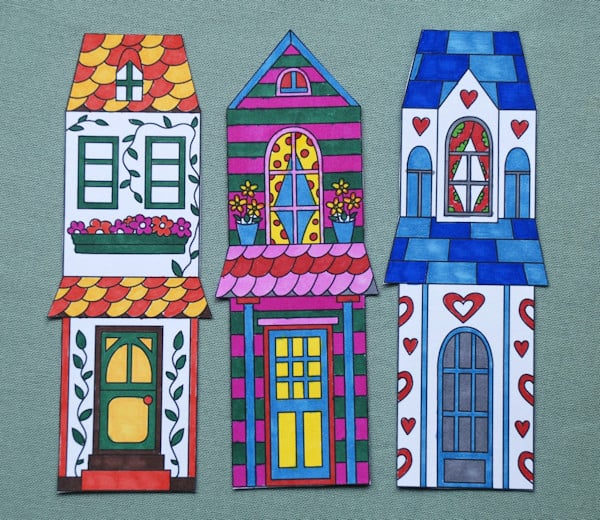 Some of her lovely finished bookmarks
In fact as soon as she had finished her houses she immediately allocated one of the houses to her Black Beauty book.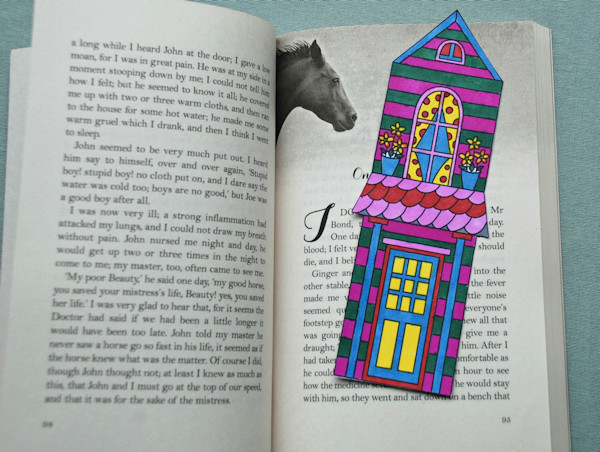 Her new bookmark tucked into her reading book
We have made quite a few bookmarks but I still think I may print out some witch's legs or possibly the witch's hats bookmarks when the new ink arrives and I think the peacock feathers colouring bookmarks would be another good set to colour in.
The witch's bookmarks actually got me thinking if you are planning on giving someone a book for Christmas you could always print out one of super cute Christmas feet bookmarks and include it in the present. We vote for the Santa's legs bookmark!

This is a guest post from Shelly. Shelly is a home educating parent of two children aged 8 and 10. She blogs at ofamily learning together where she shares ideas on the different learning activities that they do including lots of hand-on maths, arts and crafts and anything else that is part of their home educating lifestyle.
You can find more guest posts by Shelly, and a list of all our guest posts, here.
Thursday, 3rd October 2019