In our house we can't decide which is more fun: designing the game, or playing it! All you need is some bits and pieces from around the house and a little imagination, and your kids may create a family treasure - or even a new Monopoly!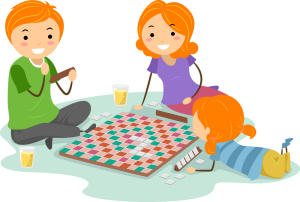 Age: 5+ (with adult help)
All you need to make the simplest board games is a large piece of paper, some crayons, a die and some imagination. But with a few extra supplies and ideas you can go a lot further...
Give your kids a collection of stickers - character stickers, small round stickers, small square stickers etc - a file folder, and some felt tips, and they can create a masterpiece. You just need a start space, a finish space, and a few child-designed hazards along the way!
A large square or rectangle of corrugated cardboard cut out of the side of a large cardboard box can be the beginnings of a new game. How about covering it with fabric and using felt shapes for spaces? Or you could use paper mache techniques to make it into a "relief" board.
Give the kids a stack of small white cards so that they can create their own forfeits or challenges to go alongside the game.
Suggest a theme - jungle adventure, pirate adventure, explorers - and cut out some pictures from magazines or print clipart off the internet to help add some excitement to the game board.
Make a family game board using photos of members of the family.
A large box lid can become a 3-D game. Gather together your collection of bottle tops, yoghurt pots and other bits and pieces, and cut holes into the lid into which to sit the deeper items. Stick small boxes onto the top too if you want - think "Mousetrap" and get the game pieces climbing in and out and up and down along the path to the finish!
Use paper money from an existing board game or print out some of ours.
Explore Activity Village