Elephants
Elephants are the largest land animals in the world today. There are African elephants (with larger ears) and Asian elephants (with smaller ears). In Asian culture, elephants are revered for being wise and having excellent memories - and indeed a common saying in the West too is "an elephant never forgets". We've got some great elephant activities below for the kids to enjoy!
Fun facts: The oldest elephant recorded lived to be 82 years old!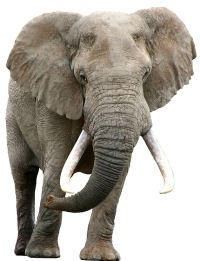 This herd of elephants are drinking at a waterhole in South Africa.
Elephants In Stories
There are many well known elephants in stories. Everyone knows Dumbo the flying elephant - you can see a clip of him learning to fly in one of the videos below! Colonel Hathi and his three sons feature in The Jungle Book - and you can see the wonderful song "Colonel Hathi's March" from the Disney film below.
Also beloved of children all around the world are Babar the Elephant, and Elmer the Patchwork Elephant! And many of us, adults and children alike, fell in love with Rosie the circus elephant in the book and film "Water for Elephants".
You Might Also Enjoy:

Fish
Explore Activity Village