This Mother's Day craft encourages children to think about what makes their mother special. It is sure to become a treasured possession!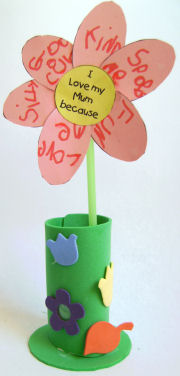 You will need:
Coloured card
Pens
Scissors
Our printables (find them below)
Instructions:
Either draw a circle and six petals on the card, writing in the middle of the circle 'I love my Mum because' - or print out one of our templates on to the card.
Cut out your flower parts.
On each of the six petals, draw or write a reason why you love your Mother.
Glue the petals to the back of the circle and leave to dry.
You can now glue your flower to a card for a lovely Mother's day card, or tape a drinking straw to the back and make one of our homemade vase ideas to pop it in!
Mum's flower printable
-
Log in
or
Become a Member
to download
Mom's flower printable
-
Log in
or
Become a Member
to download
Explore Activity Village