Hang this lovely rainbow bag tag from a satchel - or anywhere in a child's bedroom or playroom - and everyone's day will be brightened. It's a super starter sewing project for children.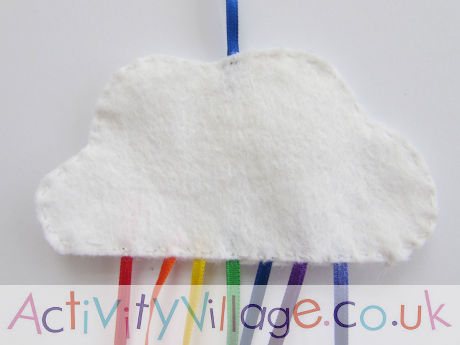 You will need:
White felt
Ribbons in the colours of the rainbow
Needle and white thread
Key ring fastening
Instructions:
Cut two cloud shapes (with a flat bottom to the cloud) from felt.
Place one on top of the other and, with small stitches, sew them together starting at the bottom of one curved side..
When you reach the middle top, take a short piece of ribbon, fold it to make a loop, and capture the ends in between the two clouds with your stitches.
Keep sewing around the top edge.
When you reach the bottom edge again, cut a length of each colour ribbon and arrange one end of each piece to sit in between the felt clouds. Sew along the bottom edge, catching the ribbons in place as you go.
Fasten the keyring fastening onto the top loop and hang up your rainbow.
Explore Activity Village