This salt dough apple wreath and its matching place card holders look very pretty displayed on a Thanksgiving or Harvest table, are sure to be brought out year after year. You could of course adapt the craft for other fruit and vegetables. Make sure you apply varnish if you want them to last! Younger children will need some supervision.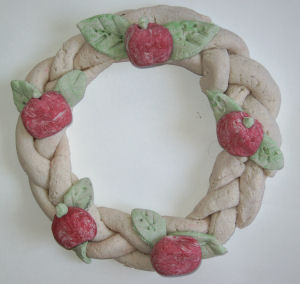 You will need:
3 cups of plain flour
1 ½ cups of fine salt
1 cup of cold water
2 tbsp of vegetable oil
Red and Green food colouring
Knife
Varnish (optional)
To make the salt dough:
Mix together the flour, salt, water and oil until you get a smooth dough (you may need to add a bit more flour or water). Split the dough in half and put one half to one side. Halve the remaining dough again. Into one half drop a few drops of green colouring and into the other a few drops of red colouring. Kneed the dough until the colour is spread evenly through it.
To make the wreath:
Take about half of the uncoloured dough and split it into 3 equal parts. Roll each part with your hands until it forms a long sausage. Lay the three sausages side by side and squash together at one end. Plait the dough (you will probably have to make a few repairs as you go along). When you reach the end, trim off any excess and bend the plait around to form a circle.
Roll out or press some of the green dough until it is about 1/8th inch thick. With the knife, cut out 10 small leaves (save the excess) and use the tip of the knife (younger children might want to use a toothpick) to mark on the veins. Press the leaves around the wreath in groups of two.
From the red dough roll 5 small balls. Press gently on the top and the bottom to make apple shapes. Add a stalk from green dough to each apple and press them on to the apples.
To make the name card holder:
Take a small ball of uncoloured dough and roll or press flat into a circle about ¼ inch thick. Lay your finger across the centre of the circle and fold up either side (but don't let them touch).
From red dough make a small circle and form into an apple shape. Press the apple onto one side of the name holder.
From the green dough make two leaves and a stalk and press onto the top of the apple.
Make as many name card holders as you need.
To finish:
When everything is made, carefully transfer it to a baking sheet and bake at 160˚F (70˚C) for about 3 hours. If you like you can finish with a coat of varnish to protect your items.