Around the World Colouring Pages
We are really proud of these colouring pages and hope you enjoy them! We've taken "snapshots" of famous landmarks and pretended our children are sightseeing, so that you can be with them while you are colouring in. Then we've researched traditional costumes from around the world, too, and given you a boy and girl all dressed up and ready to colour.
World Famous Sights to Colour
Take a trip around the world with us by printing these "around the world" colouring pages, featuring some of the world's most famous landmarks and sites! Take a virtual tour of the world in your classroom or homeschool, or print out some pages in advance of an exciting holiday....
Click on the links beneath the thumbnails to see the colouring pages by country:

Australia Colouring Pages
Visit some of Australia's famous sights - Sydney Opera House, Uluru - with our colouring pages!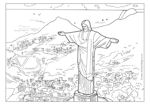 Brazil Colouring Pages
The Christ the Redeemer statue standing over Rio is a world-famous sight - and the kids will hopefully love our rainforest colouring page too.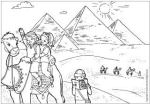 Egypt Colouring Pages
Some of the most famous landmarks of the Ancient world can be found in Egypt. Imagine how exciting it would be to take the place of the children in these colouring pages!

England Colouring Pages
NEW! We have colouring pages of some of England's best known landmarks for the kids to enjoy. Also see our London Colouring Pages below.

France Colouring Pages
Take a site-seeing trip round two of Paris's most famous landmarks with us.

India Colouring Pages
Visit the Taj Mahal, colour a map of India, and enjoy a splended Indian elephant colouring page too.

London Colouring Pages
Who needs to go sightseeing in London when you have this wonderful collection of pictures to colour! Visit Big Ben, the Tower of London, Tower Bridge, the London Eye and many more landmarks.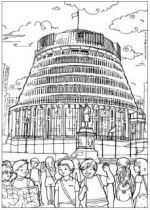 New Zealand Colouring Pages
A map of New Zealand, the Beehive, One Tree Hill and more, to print and colour.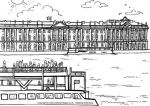 Russia Colouring Pages
Take a trip to Moscow and St Petersburg and visit some of the most famous Russian landmarks and one of the grandest royal palaces of all time!

Scotland Colouring Pages
A Scottish piper, children in traditional dress, a map of Scotland and lots of Scottish landmarks to colour, and .... could that be .... yes it is ..... the Loch Ness Monster!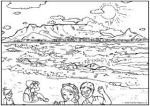 South Africa Colouring Pages
Soccer City and Table Mountain to colour in - familiar to many after the World Cup 2010!

US Colouring Pages
Can't visit New York, Washington, San Francisco, the Grand Canyon yourselves? No worries - print out our wonderful collection of colouring pages instead!

Welsh Colouring Pages
Discover some well-known Welsh landmarks, and, of course, colour in a castle or two!
Children Around the World Colouring Pages
Come once more around the world with us with our "Children Around The World" colouring pages. We celebrate the differences and similarities of our children and enjoy the national costumes, where appropriate. We hope that in time we will have a huge collection here, which can be coloured and used for all sorts of projects, or even to create a frieze around a classroom wall. Some of the colouring pages could also be used for historical projects - although please note that we don't claim that they are absolutely accurate!
Explore Activity Village