Azerbaijan
Find out some interesting facts about Azerbaijan to share with the kids, and enjoy our collection of flag-based Azerbaijan printables.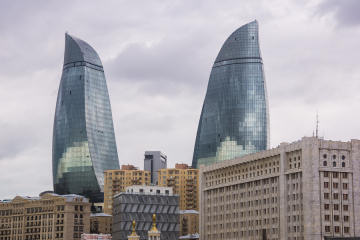 Skyline of Baku, Azerbaijan
Learn a Little about Azerbaijan
The Republic of Azerbaijan sits in the Caucasus region, where Europe meets Central Asia.
Azerbaijan borders Russia , Iran , Georgia and Armenia with an eastern coastline on the Caspian Sea.
The country was known in ancient times as the 'Land of Fire' due to gas burning on hillsides. Half the world's mud volcanoes are located in Azerbaijan.
The prosperous capital city of Baku is the most cosmopolitan in the region, boosted by oil revenues. The first oil well was drilled nearby.
The Swedish Nobel brothers, who funded the Noble Prize, set up on Oil company here in the late 1879.
In Baku's Old City, the Maiden Tower, an iconic 12th century stone building, is a reminder of the trading past of this nation, which lay on the ancient Silk Road.
Baku hosted the Eurovision Song Contest in 2012 after local band Ell/Nikki won in 2011.
Visitors to the mountain village of Xinalaq can experience the lifestyle of shepherds who still live in rustic stone huts and speak their own Kesta language.
Azerbaijan's flag is a tricolour of blue (symbolising the country's Turkic heritage), red (...
Explore Activity Village